This number matching game is a fun way to help teach your little kids how to count by reconciling number recognition with counting.
This game is a handy learning aid for teachers of preschoolers or even kindergarteners as it this makes a great preschool numbers matching activity .
It is also great if you are homeschooling your little ones or just a fun activity to do with the kids.
This number matching activity teaches the kids in a fun way how to count and enhances number recognition.
How to play the number matching game
The child picks a sector on the wheel.
He/she counts the number of shapes on that wheel
Then the peg with the right number is attached to that part of the wheel 
This number matching game engages your child in the following ways…
Teaches the child how to count

Helps with number recognition

Teaches and/or reinforces their knowledge of shapes

Teaches and/or reinforces their knowledge of colours.
You can mix it up by asking them to identify a particular shape or colour on the wheel.
How to make the number matching game wheel
Materials needed
Glue stick

White cardstock paper

10 Wooden pegs

Scissors
Instructions
Print out the template below here.
It has the everything on one page.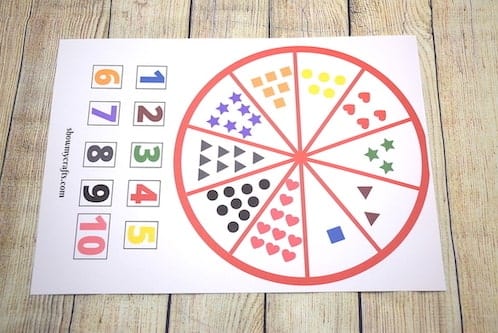 Cut out the wheel using a scissors and cut out the numbers
Apply glue to the wooden pegs
Stick a number on the wooden pegs.
Make sure the cut out numbers are glued right in the middle.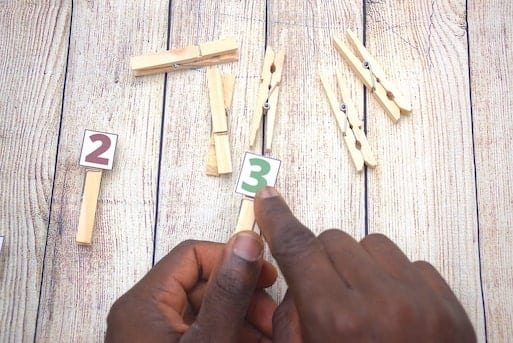 Let it dry completely
Now you are ready to have fun counting.
Find more number themed Educational activities here