A Teddy bear valentines craft is sure to be a hit with the kids. 
Whether it is for a valentine's day themed activity at home or at school.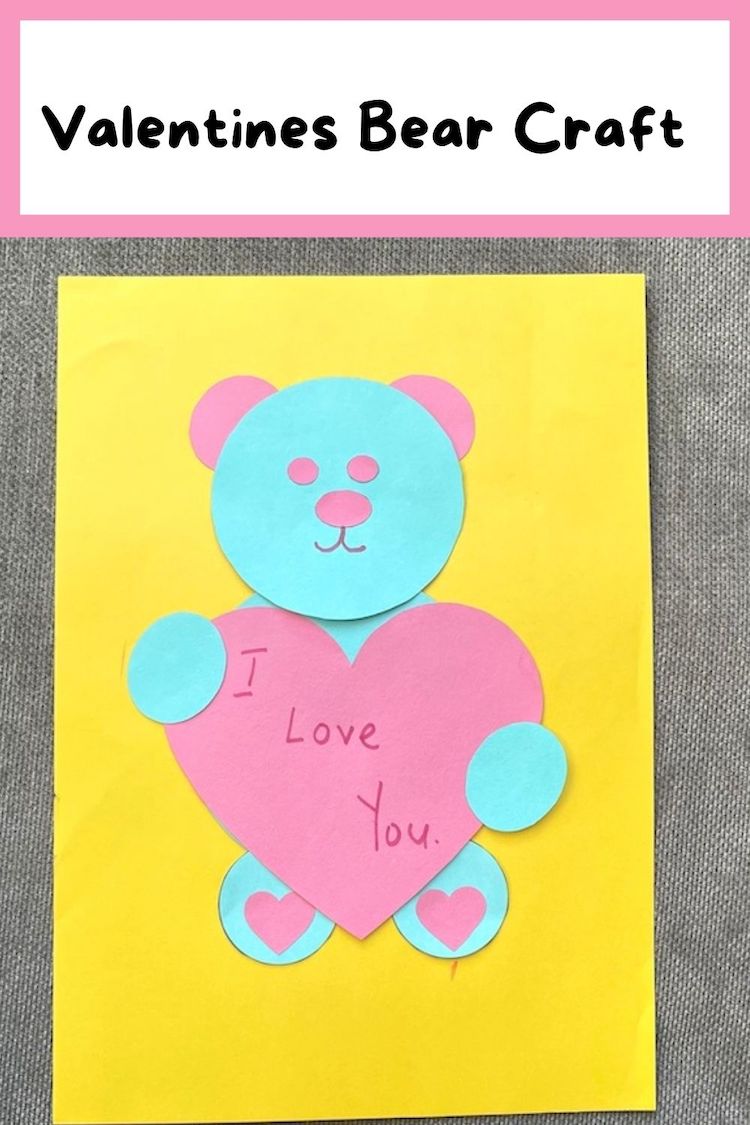 The kids are absolutely going to love this bear craft as animals are always popular.
And when it is finished, it can be displayed on the fridge at home or on the wall of the classroom.
This tutorial will show you how to make your teddy bear craft for Valentine's Day using the free printable valentines bear craft template.
Materials needed for your Valentines bear craft
You probably already have everything you need to make bear craft for valentines days you will need the following 
3 Different coloured paper

Valentines Bear Craft template (You can

print this at the end of this post)

Glue stick 

Scissors

Pen/Marker
To Make your Valentines day teddy bear crafts
Print the Valentines bear template below on the coloured cardstock paper of your choice.
This is a 2 page template so print both pages of two different coloured paper.
Cut out all the pieces. Eyes, nose, hands, torso and the heart.
Glue the bigger circle on a piece of paper. This is the torso of the bear.
Then glue the smaller circler on top of the bigger circle as pictured. This is the head of the bear.
Glue the eyes and the nose on to the head of the bear.
Use a marker to make slants under the nose of the bear.
Add the feet to your bear craft. Make sure it glued on top of the torso.
It is a valentines teddy bear so make sure you add the two hearts to the feet.
Now add the ear to the head of  the bear. Glue the ears under the head.
Also glue the heart firmly in the centre of the torso.
Dont forget to add the paws on both sides of the heart.
Finally, write your message on the heart.
All done. 
Another bear craft you might like is this Bear Heart Craft. It is a papa bear and son on a heart. Just ideals a valentine's craft.
Valentines Bear Craft Template
For more Valentines crafts for kids..